What are the Differences Between Inpatient and Outpatient Treatment?
For people who struggle with drug or alcohol addiction, the prospect of attending therapy and rehab can be overwhelming. And for those who are addicted to substances or alcohol, the idea of being in a place where they cannot use drugs or drink can be terrifying. But understanding what happens in inpatient or outpatient rehab, and how long a person may need to stay in a facility can alleviate some fears and reservations.
Drug and alcohol abuse facilities and rehab generally fall into either inpatient or outpatient treatment categories. Staying in either inpatient or attending outpatient rehab will depend on the patient's needs, the severity of their addiction, and their circumstances.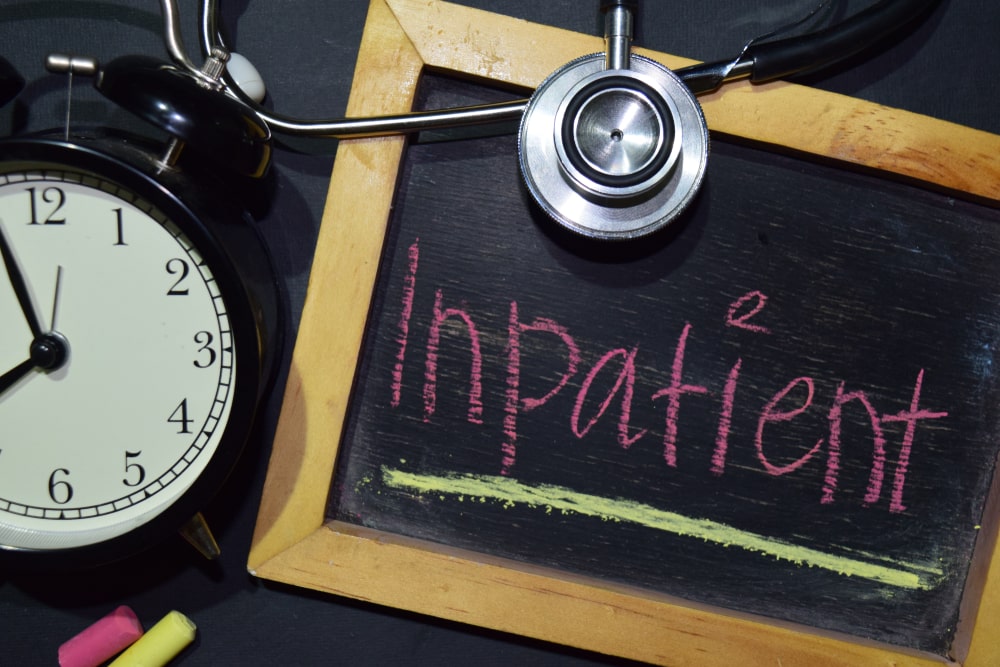 What is inpatient treatment for drug or alcohol addiction?
With inpatient treatment, the patient will live at a treatment center for a set period of time. Most inpatient treatment programs are administered for either thirty days, sixty days, or ninety day periods. People who've been to rehab before, or who are severely addicted to drugs or alcohol may need to stay for longer.
Inpatient treatment typically has a higher success rate than outpatient rehab. Patients are kept in a secure place where they do not have any access to drugs, alcohol, or other triggers for drug use. Patients are also in the company of people in similar situations, and the patients have 24-hour access to doctors, therapists, and supportive counselors. Inpatient rehab centers are often equipped for medical detox, which can significantly decrease the pain and severity of withdrawal. In turn, medically-assisted detox can also reduce the chances of a patient relapsing to find relief from distressing withdrawal symptoms. Patients do not have any distractions or stress from daily life and can focus entirely on recovery.
What are the positive aspects of attending inpatient rehab?
Ability to entirely focus on recovery without outside distractions
Higher success rates and lower chances of relapse
24/7 access to medical staff
Facilities are equipped to treat severe addictions and comorbid disorders.
What are the downsides of attending inpatient rehab?
Treatment is more expensive
Inpatient rehab is extremely disruptive to daily life
Although inpatient rehab might be the best choice for a patient, it's not always feasible. Patients may have a difficult time paying for treatment. Adults with children or caregiving responsibilities may find inpatient rehab impossible to attend. People who are the primary breadwinner to their family and cannot afford to lose their job may not benefit from inpatient treatment either. Students may also not be candidates for inpatient treatment if they want to finish school. Studies have also found that women face higher barriers to inpatient treatment because of caregiving responsibilities. For these patients, outpatient treatment is the next best thing and is useful for treating a variety of addiction and comorbid issues.
What is outpatient treatment?
While patients live at an inpatient treatment facility 24/7 for a period of several months, outpatient treatment is a part-time program that gives patients the ability to continue working or attending school. Patients continue to live at home, work, and go to school, but they must attend pre-scheduled therapy and treatment meetings at an outpatient facility. Most outpatient treatment programs are for ten to twelve hours a week. They aren't as disruptive to daily life and can be extremely effective for someone with a mild addiction. Parents and caregivers, students, and breadwinners may find outpatient therapy to be ideal for treating their substance use disorder.
Outpatient treatment sessions typically focus on individual, group, and family counseling. Sessions will also focus on drug abuse and addiction education, prevention, and learning how to cope with emotional triggers without resorting to drug or alcohol use. By itself, outpatient treatment is ideal for a person with mild addiction issues, but outpatient can also be part of a long-term treatment plan. For those with severe addiction problems, they may undergo inpatient treatment for several months, before transitioning to an outpatient program.
Outpatient rehab usually lasts three to six months. In some cases, a patient may need to attend outpatient treatment for up to a year.
Patients who are addicted to drugs or alcohol can also attend outpatient detox for withdrawal. Outpatient detox lasts an average of six days and is an effective and safe alternative to residential detox. During outpatient detox, patients are required to visit a hospital or other clinical facility at specific intervals to check the patient's physical and mental health levels. Clinicians can administer medications to lessen the severity of withdrawals, such as anxiety, sleep disturbances, stomach upset, and increased heart rate.
What are the positive aspects of attending outpatient rehab?
It is a less expensive option than inpatient treatment.
Outpatient rehab is less disruptive to daily living.
Outpatient programs are accessible to a broader range of drug addiction patients.
Patients can continue going to school or work.
Patients have access to a larger support group and social circle.
What are the downsides to attending outpatient rehab?
It is not as effective as inpatient treatment for severe addiction.
Patients may have access to drugs or alcohol and can relapse.
Patients are not given the ability to focus on rehab entirely.
Patients may be distracted by external stresses and triggers.
Studies have found that intensive outpatient treatment programs are just as useful for treating addiction as inpatient treatment. However, inpatient treatment is a more comprehensive and safer option for some patients. Patients who've relapsed before, who are suffering from a severe addiction, or who also have a co-occurring disorder may benefit more from inpatient treatment. Patients who do not have a safe place to live or have access to drugs and alcohol at home might be safer in an inpatient rehab facility.
Choosing inpatient or outpatient rehab is something that a patient will need to discuss thoroughly with their team of doctors and therapists. Effectively treating drug addiction and alcoholism will vary significantly for each patient. If you or someone you care about is struggling with substance use disorder, it's never too late to attend either an inpatient rehab or outpatient treatment program. Representatives at Windward Way are standing by to answer your questions. Please contact Windward Way today to explore your options for substance abuse treatment.
ASKING FOR HELP ISN'T EASY
Our admissions counselors will guide you or your loved one through the admissions process and treatment options. Assessments are always free and 100% confidential.