Drug Addiction and Treatment in the Elderly Community
In the U.S. and throughout most of the west, the elderly population is growing. In 2011, the first cohort of the Baby Boomer generation reached age 65. This generation comprises about 30% of the U.S. population. As the Baby Boomer generation ages, this number will continue to increase. Rarely are drug abuse and addiction associated with older Americans, but recent research indicates that drug addiction and substance abuse are adversely affecting the 50+ demographic.
Although drug abuse and addiction among younger people cause dire health consequences and other financial, social, and emotional issues, these consequences are worse for older populations. Using drugs or drinking too much alcohol, even if the person is not addicted, can cause serious health issues and cognitive impairment in older adults. The following article will explore the percentage of elderly persons who abuse drugs, and how addiction affects the elderly community.
What percentage of the elderly community abuses drugs or alcohol?
A study from SAMHSA on National Drug Use and Health found that illicit drug use among the 50+ demographic had increased dramatically in recent years, as well as alcohol use and also prescription drug abuse. Abuse of prescription drugs was highest among women between the ages of 60 and 64, while alcohol was the most commonly abused substance among people older than 50. Senior men are the most at-risk of binge drinking alcohol.
About 20% of men over age 65 abuse alcohol, and about 7% of women over age 65 abuse alcohol, but aren't necessarily addicted. In older populations, at-risk drinking is much more prevalent than alcohol use disorder. Problem drinking for the elderly is defined as drinking three drinks or more in one session.
Opiate derivatives are the most commonly abused substances for persons between the ages of 50 and 59. Also, people in their fifties who abuse opiates report higher abuse rates of marijuana, stimulants, and cocaine than other age groups.
It's also important to note that the elderly population in the U.S. consumes 25% of all legal drugs that are prescribed in the U.S. Abuse rates of prescription drugs in the elderly is estimated to be as high as 11%. The most commonly abused prescription drugs in the elderly population are opiates, benzodiazepines, and muscle relaxers.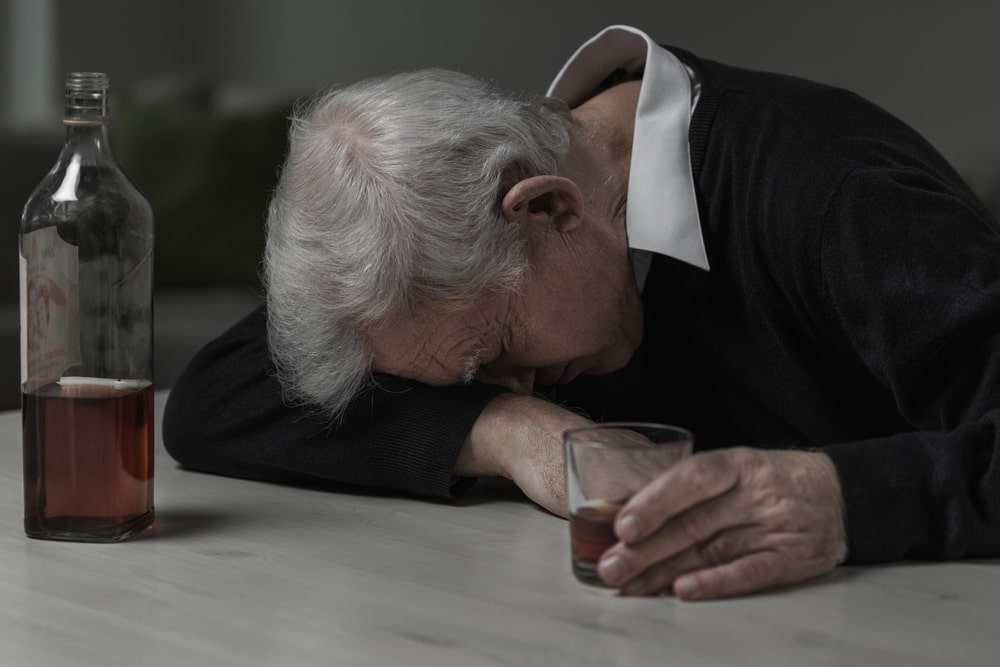 Is drug abuse more dangerous for the elderly than for younger people?
Drug abuse and addiction are dangerous for anyone, regardless of their age. A young person who becomes addicted to drugs, and abuses them for many years before seeking treatment can significantly age their body and their mind. For an older person who starts taking and abusing drugs, the effects happen more quickly and can be more pronounced.
In particular, the elderly are the most at-risk of the dire consequences of abusing alcohol and illegal drugs. Drinking alcohol as a person over age 65 is incredibly dangerous, and in fact, elderly individuals are recommended to drink less than younger people. For men over the age of 65, they should only have one drink per day, while older women should drink even less.
Drinking alcohol slows down a person's reaction times, and as people age, their reaction times naturally become slower. Alcohol magnifies these effects in the elderly. The risk of getting involved in a car accident increases after age 55, and even small, legal amounts of alcohol can increase this risk. Drug addiction can also worsen the typical effects of aging, and also exacerbate any health conditions an older individual may already have, such as osteoporosis, or cardiovascular disease. Weaker cardiovascular systems make the elderly much more susceptible to a fatal drug overdose than younger persons.
For people over the age of 50 who struggle with substance abuse and addiction, these people are considered either late onset abusers or early onset abusers. Early onset abusers are people who become addicted to drugs or alcohol before they turn 65. Early onset abusers tend to have higher rates of psychiatric problems and physical health issues directly related to addiction than late-onset abusers. Of the entire geriatric alcoholic population, early onset abusers are estimated to make about 75% of the demographic.
People who have never struggled with drug or alcohol addiction are less likely to take up the habit as they get older. However, certain events can trigger substance abuse in older populations. Late-onset drug or alcohol abuse tends to happen as a result of a stressful life situation. For the elderly, they are at risk of experiencing the death of a loved one, stressful life events such as moving, or retiring, and increased social isolation that can make them susceptible to drug or alcohol addiction.
People who begin to abuse drugs or alcohol after age 65 tend to have fewer mental or physical health problems than early onset abusers. However, untreated drug or alcohol abuse in the over 65 population can significantly shorten their lifespan, and also cause physical and emotional pain that can lower the quality of their life. It's critical that friends and family recognize alcohol or drug addiction in an elderly loved one so they can seek treatment for substance abuse.
What can loved ones do to help an elderly family member with addiction issues?
If someone notices the symptoms of addiction in their elderly loved one, it's crucial to reach out to a professional drug abuse counselor who has experience treating members of the elderly population.
Confronting an elderly loved one without support can make matters worse. People without a professional support system in place run the risk of enabling, downplaying the issue or becoming co-dependent if they confront an elderly loved one alone.
Signs of drug or alcohol abuse in the elderly include denial, secretiveness, and hiding prescription bottles or alcohol bottles around the home. Elderly adults with a substance abuse issue may exhibit frequent mood swings, defensiveness, or fake an illness to obtain more prescription drugs from a physician. Elderly patients who drink too much or abuse alcohol may also experience more frequent lapses in memory and judgment than usual.
If you recognize the signs of addiction in an elderly loved one, please don't hesitate to reach out for help. The representatives at Windward Way are standing by to answer any questions you may have about drug addiction and treatment for you or an elderly loved one.
ASKING FOR HELP ISN'T EASY
Our admissions counselors will guide you or your loved one through the admissions process and treatment options. Assessments are always free and 100% confidential.